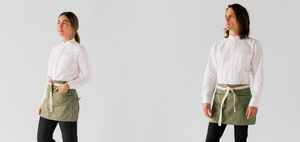 Hand Selected
Hospitality Uniforms
Ready to ship
Curated Hospitality Uniforms
We've helped award winning brands across North America create their uniform programs. With over a decade of experience in the apparel and manufacturing industry we're not your typical uniform supplier.

What you'll find below is a collection of in-stock styles that our designers have put together that can serve as inspiration or can be bought online, today.
Uniforms for the Hospitality Industry
Server Uniforms
Select pairings from our store with front of house staff in mind, designed to suit your establishment's vibe.
Restaurant Uniforms
Browse our curated looks that will have all your Restaurant Staff making an impression.
Hotel Uniforms
Hand picked looks for hotels, resorts, and other hospitality establishments to keep your staff looking professional.
Bar Uniforms
Looks custom curated for bartenders, mixologists, and all those who deal in libations.
Work Uniforms
Browse our curated work uniforms designed to give your staff a professional and seamless look.